I love these three green paint colours by Benjamin Moore and have used them all in my own home in various ways. Here are, I'm hoping somewhat inspirational ways, that I have accented my own home with these gorgeous greens.
Raindance 1572
Bathroom Cabinets
Solid Oak bathroom cabinets painted in Raindance. I love this colour for this otherwise all white tiled bathroom as it is the perfect pop of colour without overpowering the small room. It looks fantastic with brushed nickel hardware.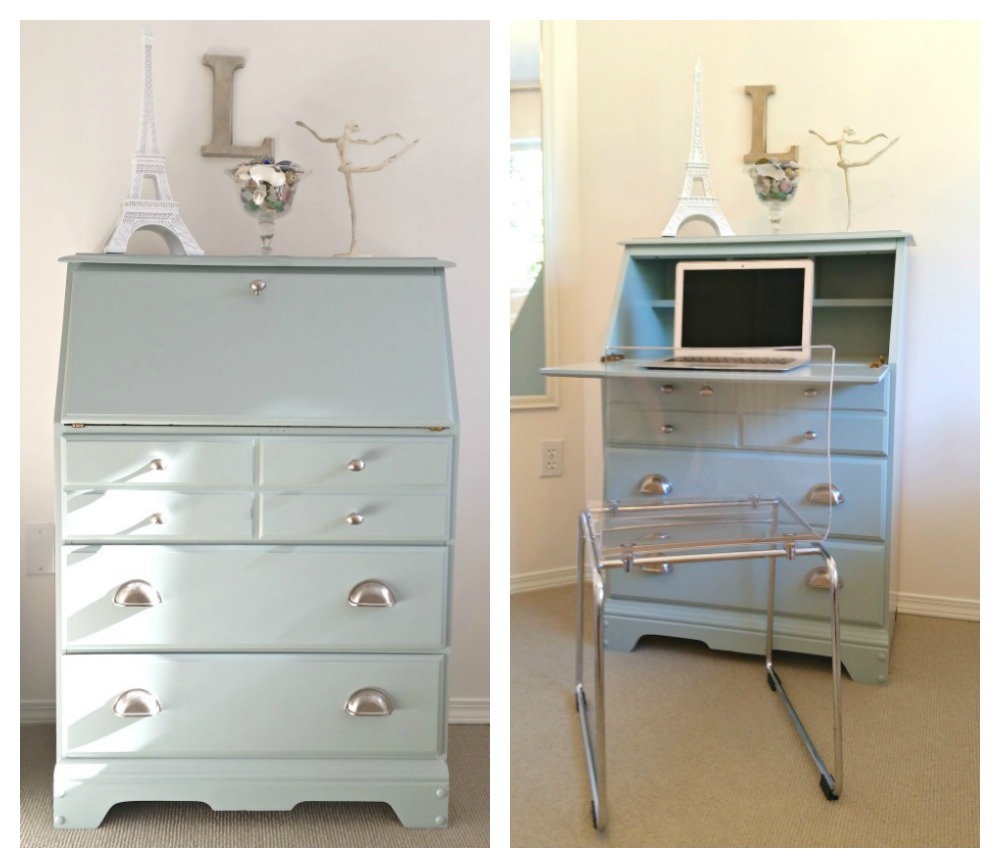 Secretary Desk/Dresser
Secretary Desk/Dresser painted in Raindance and accented with brushed nickel drawer pulls. This desk is set against, and pairs perfectly, with walls painted in Benjamin Moore's Pink Damask OC-72. To see more on my post about a girls bedroom visit Girls Room in Benjamin Moore's Pink Damask.
Laundry Room Walls
I also painted the walls of my laundry closet in Raindance. Again, loving the way it pops with the all white accents. To see how I did the laundry room on a budget, visit my post A wee Li'l laundry Closet.
This is not my home, but I included it to show you a living room painted in this ever so lovely colour.
Flora AF-470
Dining Accent Wall
Dining walls in Benjamin Moore's Ballet White with accent wall in Flora. A great combination, adding loads of warmth to the room. This accent wall is set aglow on sunny afternoons which really lets this gorgeous colour shine. Flora sits perfectly with warm wood tones and pops of red.
Smokey Green cc-700
Master Bedroom
Smokey Green is a great colour for a bedroom. Pictured above in my bedroom right after I painted it. Could not even wait to get the window coverings back up to show you this room. I love it, and it compliments the raindance painted cabinetry in my ensuite like a hot darn!
Add a little or add a lot. Whichever you choose, these 3 greens are sure to please.