The Ottoman
Great functionality that can find a home in almost every setting. I love an ottoman instead of a hard surfaced coffee table. I find it offers a sense of relaxation and comfort and possibly a splash of wonderful colour, pattern or texture. Throw a tray or two on that baby and you're good to go. I upholstered this ottoman (see my post Reupholstering a Large Pleather Ottoman) in a silvery sage chenille fabric to add a soft subtle tone in the room and tufted it with crystal buttons for a touch of glam.
Ikea's Kivik or Ektorp affordable storage ottoman's are great for smaller, casual, high use spaces. I have had mine in the family room for years. Structurally solid, lid opens for additional storage and slipcover comes off for easy washing. Fabric is a highly durable cotton twill, but if it starts to look a little tired or if you just want a new look, pick up additional slipcovers available in a variety of colours.
The Pouffe
Right on trend and a great addition as a foot rest or a floor pillow. Again, perfect for adding some great texture, pattern or colour to any room.
The Bench
Benches, hard surfaced or upholstered, are perfect for seating at the the front door, dining tables, at the end of a bed or to fill in as a coffee table.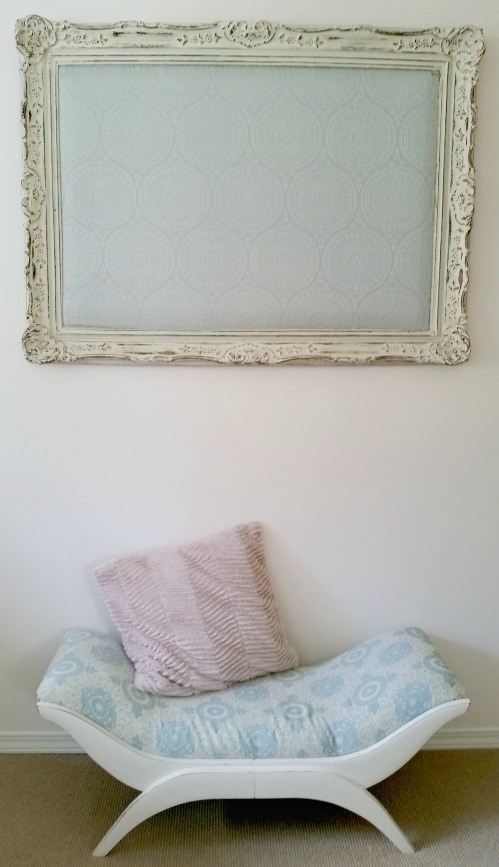 This elegant little gal serves as extra seating in my daughters room. Gorgeous feminine lines along with beautiful silk fabric and a unique profile make this bench a show stopper. To see how I refurbished this bench have a look at Parisian Inspired Bench.
This bench sits at the end of my bed and it is one that I created myself from a coffee table. No post on this one I'm sad to say. I keep a crate that was once used for transporting flower bulbs under the bench for extra storage.
The Stool
I love stools for their versatility. Group'em, stack'em or let'em stand alone. They can look so pretty while adding a tonne of functionality. Chinese inspired ceramic stools like the one shown above have been around the world of home decor forever and honestly, I think they will be around for longer still. They are so diverse in colour, texture and pattern and work in many styles.  Use it for additional seating or as a table both indoors or out.
This more industrial looking hand crafted swivel stool made by CB2 has currently found a home at my kitchen computer station. In the past, I have used it as a side table. I love the heavy angular cast iron legs topped with a Mango Wood seat.
I have two of these Sari Stools that I purchased from Pier One Imports years back. To give them a new look, I picked up some faux yak fur, cut it to size and draped it over the stool. Creates a casual, cozy feeling while adding loads of texture..
My kitchen stepping stool. A unique hand made wooden stool with loads of character. I fell in love with it the moment I saw it.
Not all my stools are functional. This antique wooden stool and wooden Chinese pillow are there just to look good! So rustic, worn and loaded with history. They set the stage for other items I have picked up on my travels.
My husband often says I have some sort of obsession and quite frankly, he could be right! Now if only I could become obsessed with something a little more productive, like exercise!