Some of you may remember one of my previous posts "Parisian inspired cork board" that I did months ago. Well the cork board was done for my daughters room which has definitely been designed with a french flair. To continue with the theme, I came across a unique bench that I thought would look perfect in the room. Not in it's original condition of course, that would just be far to boring for me.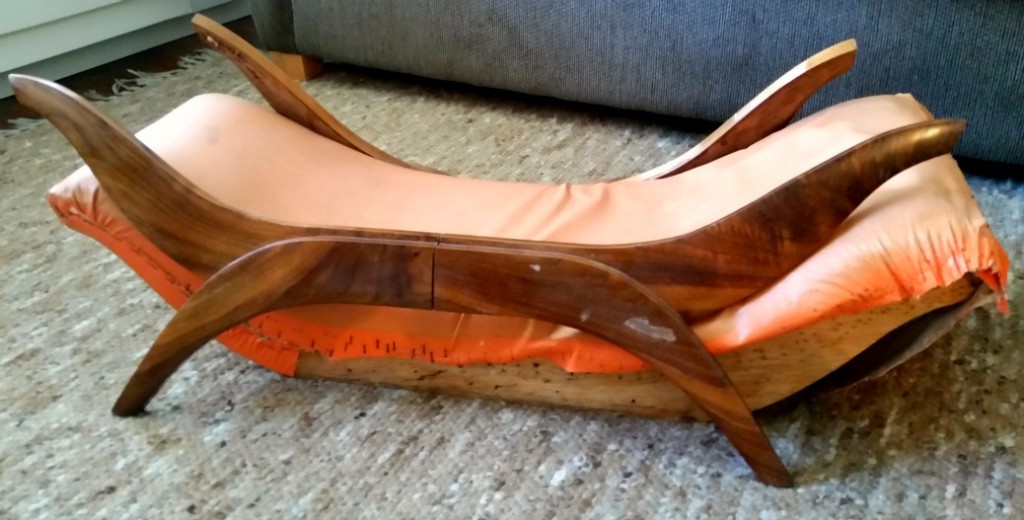 Okay, so she didn't look like much when I picked her up for 25 bucks, but I could see the potential in this lovely lady. A prize piece that just needed a little TLC. Well, let's face it, she needed a complete overhall.
To start this project, I began by completely dismantling the bench.
The curvy lines of the bench legs were fantastic, but were falling apart and badly damaged so they needed to be re-glued and refinished. Even though I loved the wood, I decided to paint the legs as busting through the thick layer of varnish to bring them back to their glory days would require a LOT of work.
Next, I removed the orange pleather material, which as you can see was done by pulling mmmm maybe a thousand randomly placed staples.
With the bench now down to it's bare bones, it was time to start the reconstruction and transformation. The legs were painted in a warm white called Etiquette by Benjamin Moore and new batting and material was stapled on to the bench frame.
Out of pocket for this bench including the purchase price of 25 bucks, was $50.00 as I had to purchase new material and batting. A lovely little piece that compliments the room just nicely.