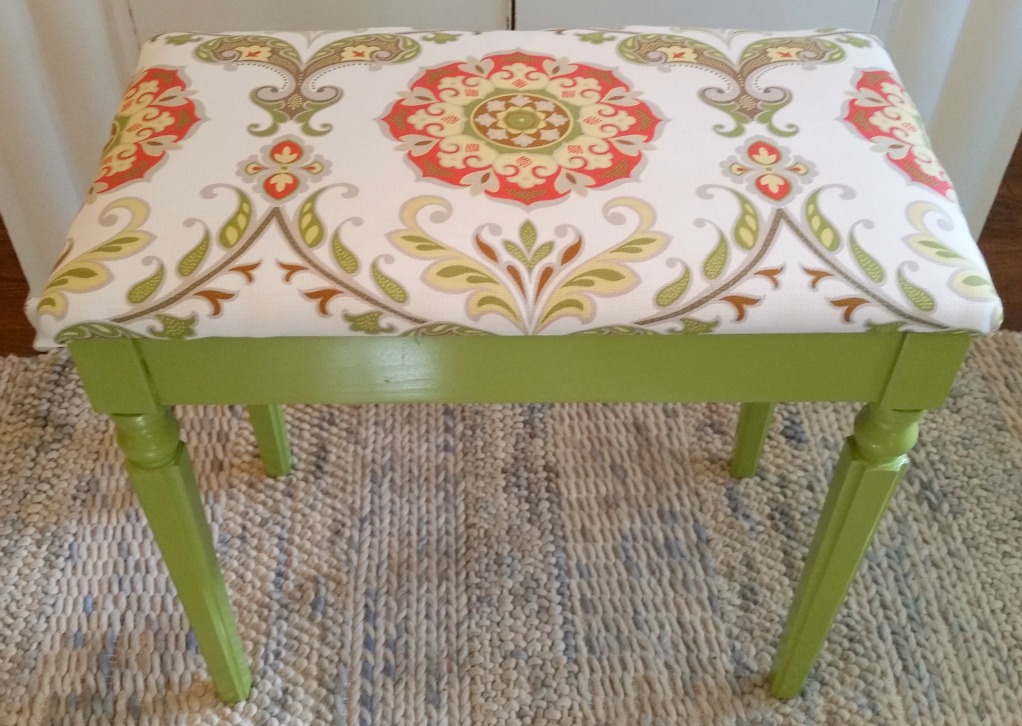 Over the past several months, I have embarked on many furniture revival projects. Although some of the projects have proven very challenging, once completed, they always prove rewarding.
Bringing a 1980's Teak Furniture Set Back to Life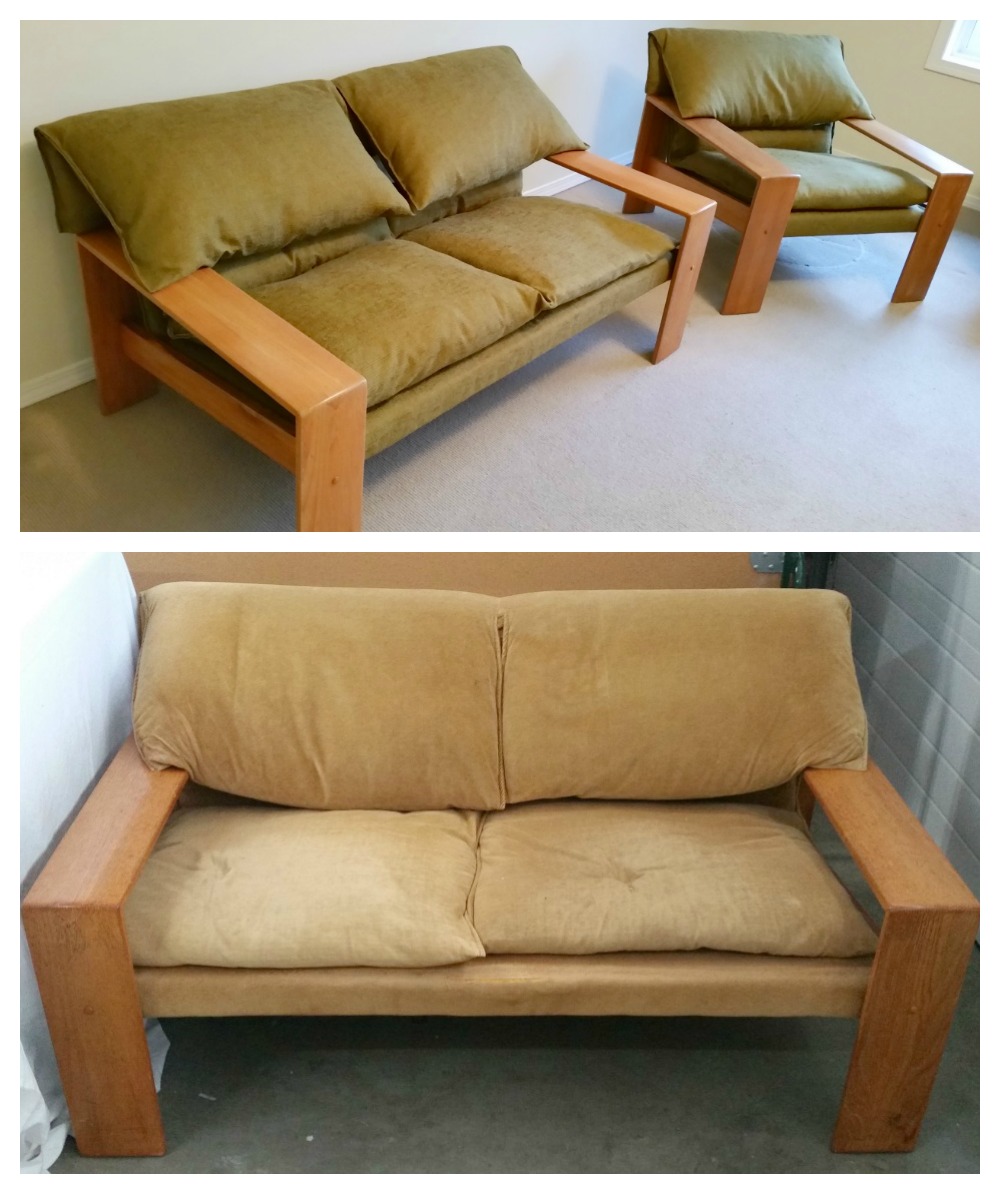 I fell in love with this Danish Teak love seat and chair on site. Although the fabric was very well used and tired, structurally, these pieces were in fantastic condition which makes for a great starting off point. All the exposed teak was given a light sanding and re-oiled while the cushions were reupholstered in a mid-century inspired avocado green. Classic in design, this furniture set will always be in style.
Restoring a 1970's Arborite Cabinet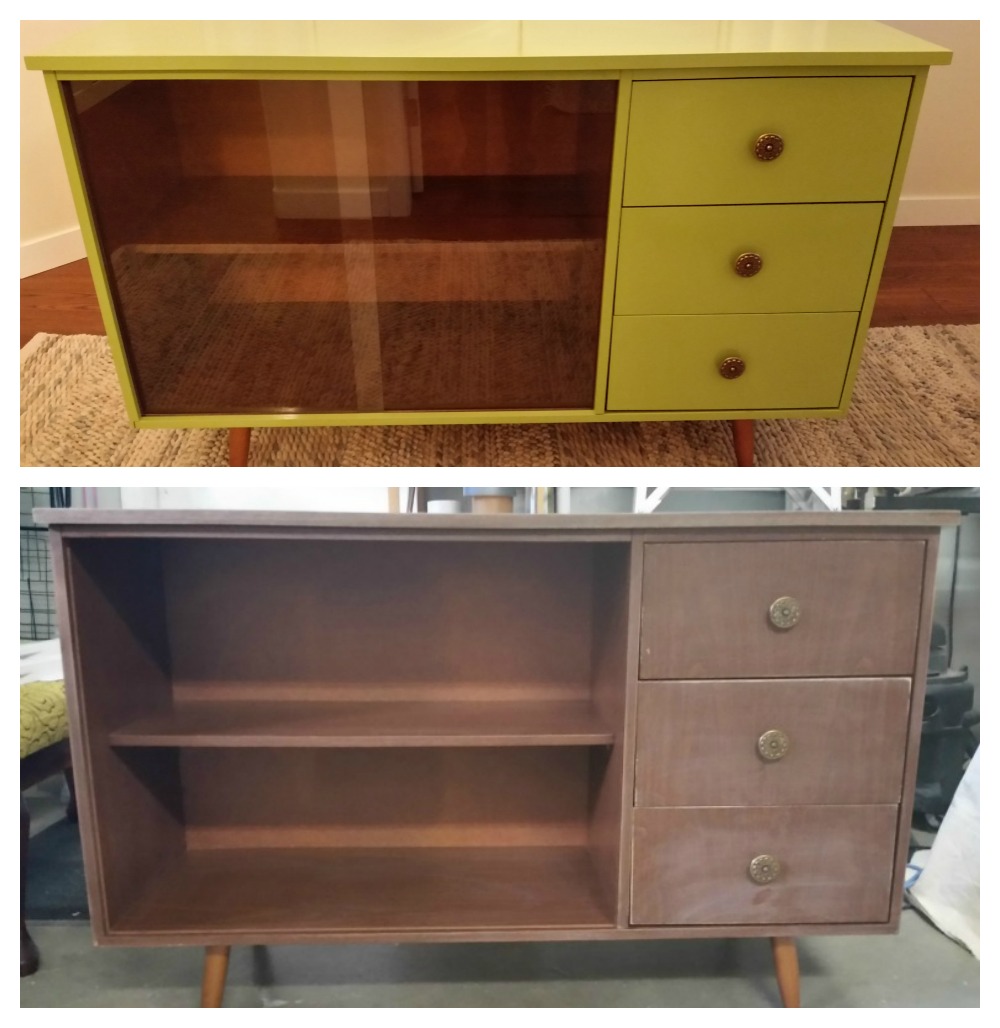 This 1970's cabinet was given a completely new lease on life with a fresh coat of high gloss paint. The colour I chose was a mid-century tone green called Jalapeno by Benjamin Moore. I was totally inspired by the clean lines and lovely legs on this cabinet. In the end, I decided to emphasize the legs by leaving them and the shelving area in a natural wood tone. The tricky thing about this cabinet was that it was Arborite which requires a slightly different painting procedure. After a bit a research, I sanded the cabinet following the grain. I then primed the piece and let the primer cure for several days. Once primer was fully adhered to the cabinet, I then painted it, again allowing several days for curing between coats.
Giving This Masculine Bench the Lift it Needed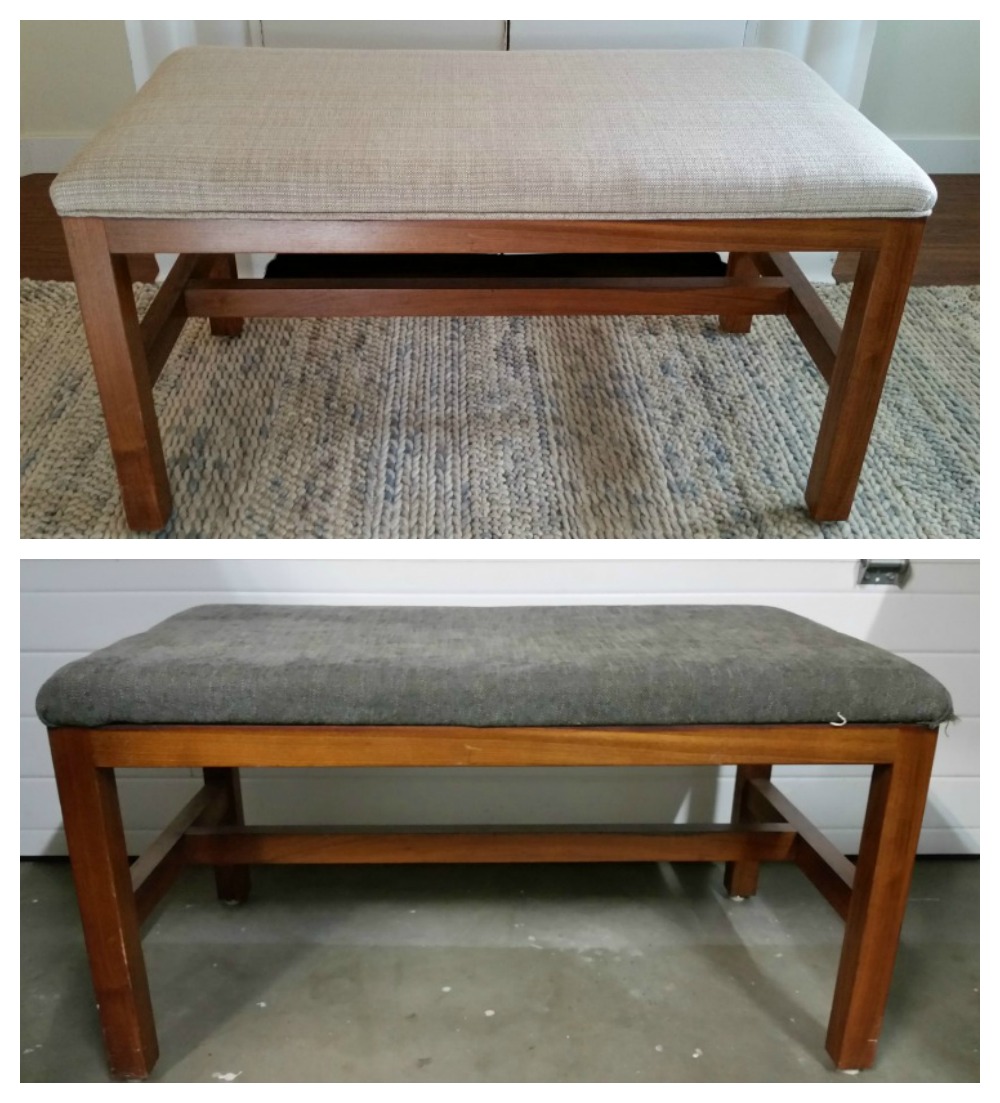 This beautiful bench was a special request from a client. To begin, I wiped the legs down with turpentine to remove marks. I then touched up the wood with a stain pen and gave it a rub with some Lemon Oil. I love me the Lemon Oil. It leaves a beautiful finish on the wood and has a great lemony fragrance. To reupholster, I decided to add some piping between the wood base and the padded top just to add a little sumpin, sumpin. The foam was then recovered with the new fabric and reattached.
Repurposed Piano Bench 

I picked up this tired, but solid piano bench from a local Salvation Army store for a steal of a deal. A piano bench is a great size for adding a little extra seating for just about anywhere in your home. I love the clean lines of this bench and with a new bright fabric it will add a pop of colour and interest to any room. Of course, like many piano benches the seat lifts for storage which is perfect if using by the front door or in the bathroom. Any hidden storage is always a bonus.
And now for a few other ottoman's that have been given a new look.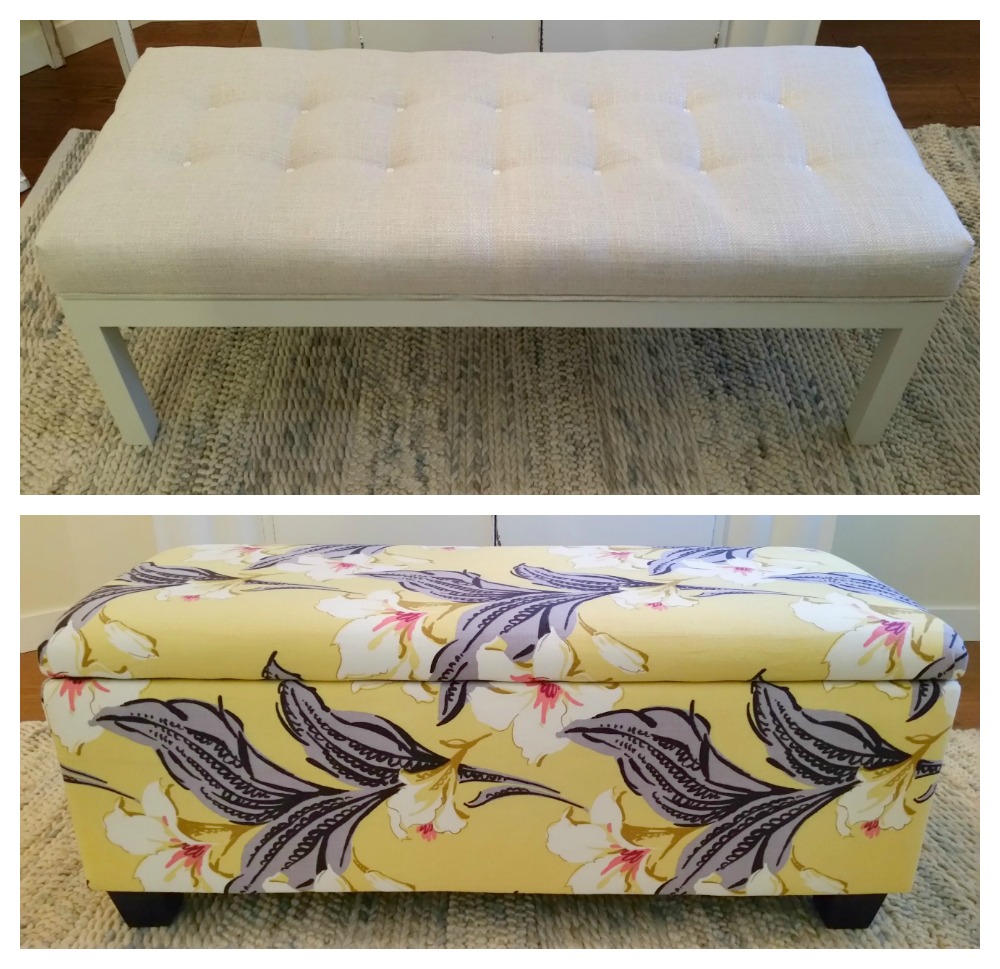 The top ottoman holds a special place for me, as it was my first try at Tufting. The bottom photo is of what was once a typical tired and torn brown leather storage ottoman that will now certainly be a pop of colour and style that every room needs.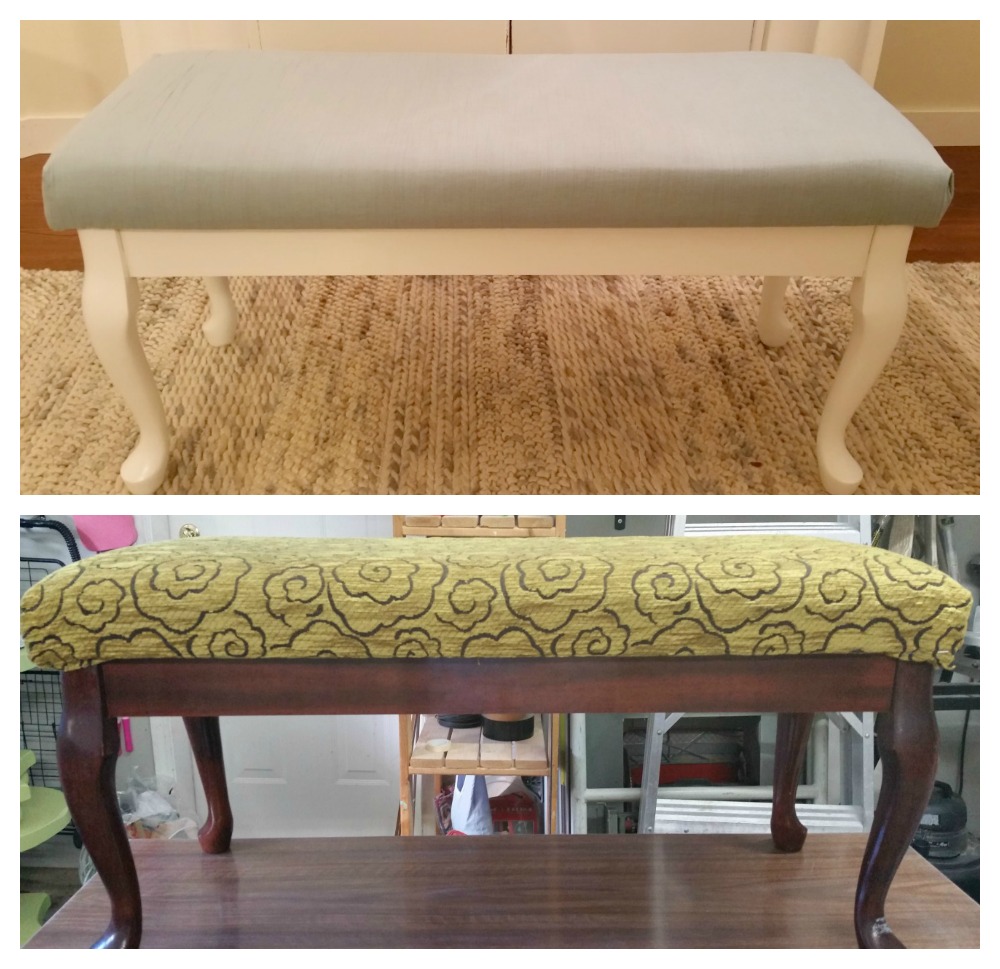 This Queen Ann style bench was painted white and upholstered in a silvery blue fabric to create a more modern look.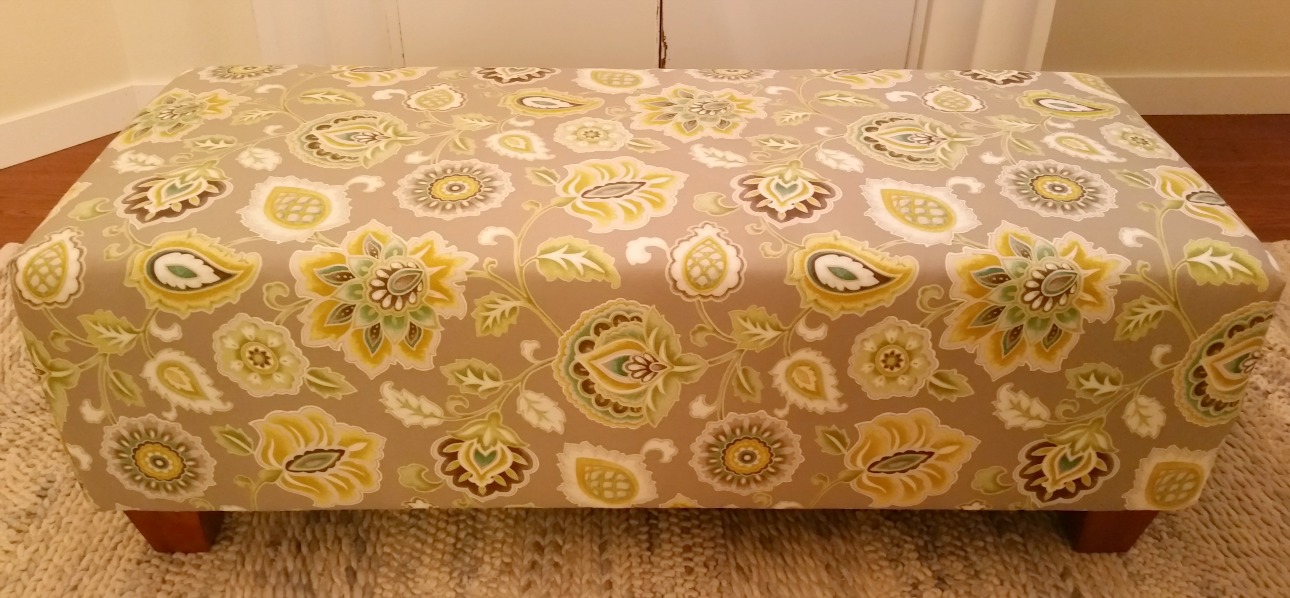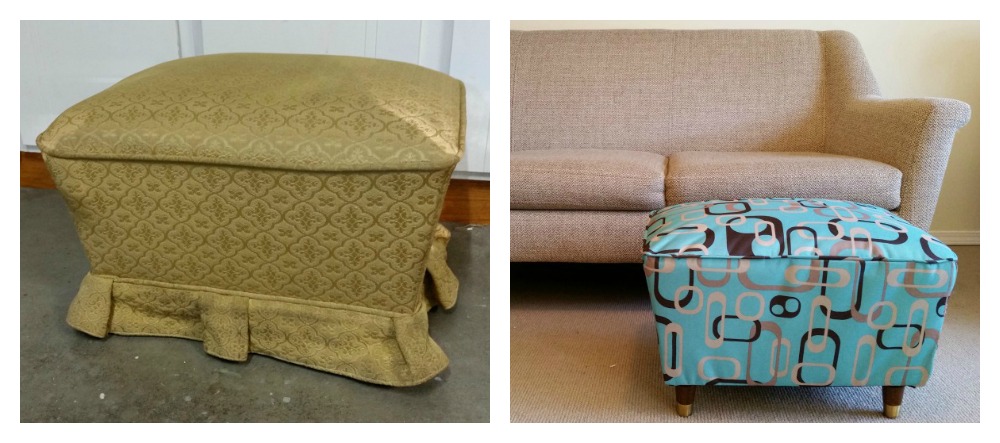 One of the biggest transformations would be this 1970's footstool. All solid wood and metal construction and updated with new fabric this footstool will last for many years to come. I chose a funky maud material to recover the stool and eliminated the ruffle bottom so the cute legs were exposed. Now the challenge with this sucker was the bottom is considerably narrower than the top so I discovered that I couldn't just sew it and then slip the fabric over the frame so I had to pull out my handy dandy curved needle and practice the invisible stitch, sewing the sides while the fabric was in place. Learning something new with every project.
Vintage Wood Desk
Gorgeous vintage desk that just needed a few tweaks here and there. A fresh coat of paint, a couple of new drawer pulls and a touch of wood glue in spots equals a lovely desk that would work well in any room. In the end though, this piece found it's place in a clients walk-in closet to purpose as a jewellery stand.
And lastly I leave you with this antique solid wood table. Gorgeous curvy legs, original casters and a coat of graphite black paint make this table a statement piece in any home.