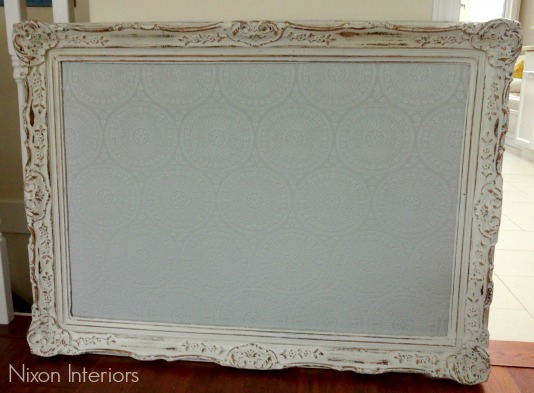 I purchased this  lovely ornate picture frame from the local Salvation Army store. I fell in love with the details and size of the frame immediately and knew that a quick lick of paint would turn this tired looking frame into something stunning.
Here is the frame in the condition in which I found it.
I painted the frame in an off white colour. One coat was all it took as I knew I would be distressing the frame. After painting, I used a coarse sandpaper and scuffed up the frame, focusing on edges and highly patterned areas.
After painting the frame, I was ready to focus on the cork board. I had an old mirror backing kicking around that I decided to use, but you could also use a heavy cardboard as your backing. I then cut the board to size, keeping in mind that I would be covering the entire board with material. I purchased a roll of cork and spray glued it onto the backing. Cork comes in different thicknesses so make sure you grab a thick one for stick pins. I then centered my material on the board and stapled it in place.
Now, all that was left to be done was inserting the material covered cork board into the frame, attaching some heavy-duty picture hanging wire and voila…a Parisian inspired cork board.