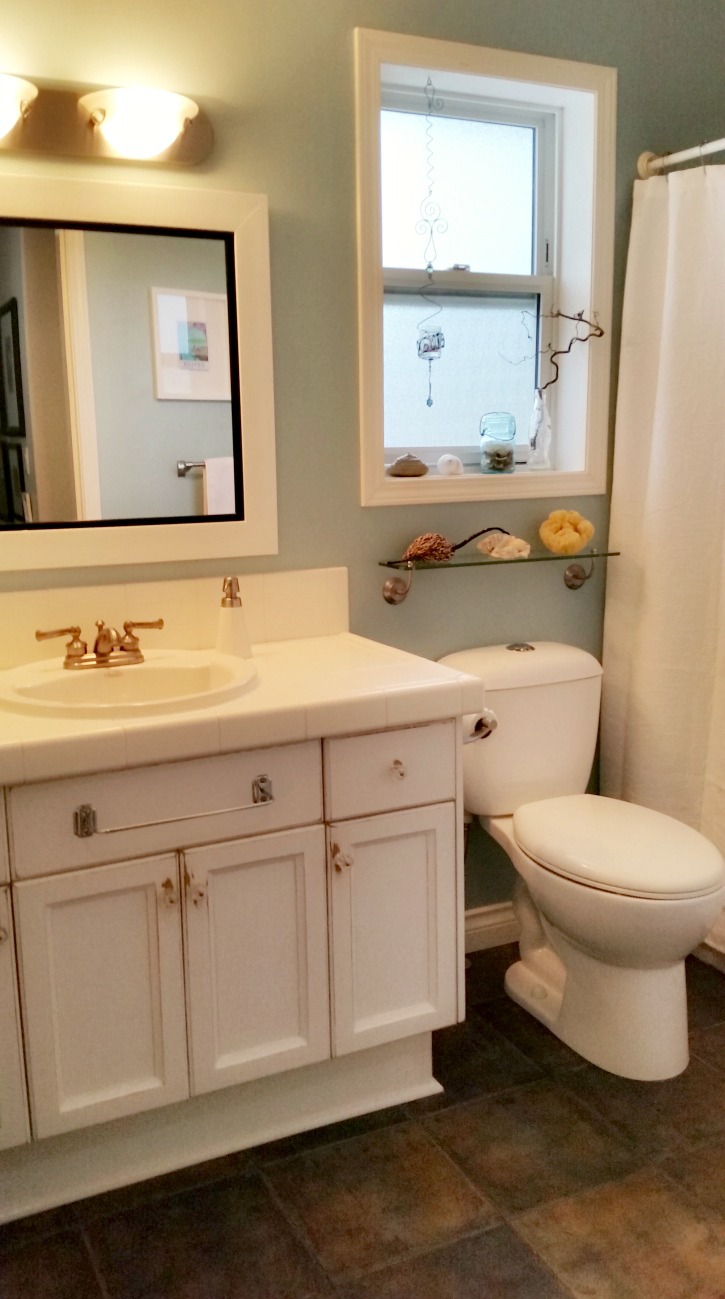 A bathroom enriched with a coastal feel with an added touch of farmhouse styling. I am a huge fan of blue and white in many shades, but one of my favourite shades of blue that compliments white perfectly is Summer Shower by Benjamin Moore and it is exactly this colour that I used to cover the walls in this bathroom. With the walls done, the vanity was then given a fresh new look by painting the solid honey coloured Oak cabinets in a white called Cloud Cover. The cabinet fronts were slightly distressed to add an aged and weathered patina and new "old style" drawer pulls were added. The trim boards, door and window frame were also painted white, but for these, I used Cloud White. The counter top was covered in a white ceramic tile to add to the farmhouse style.
I did this bathroom over 10 years ago and aside from a few decor tweaks here and there it has virtually stood untouched and I still love it today. This is saying a lot for someone that has a tendency to – switch things up!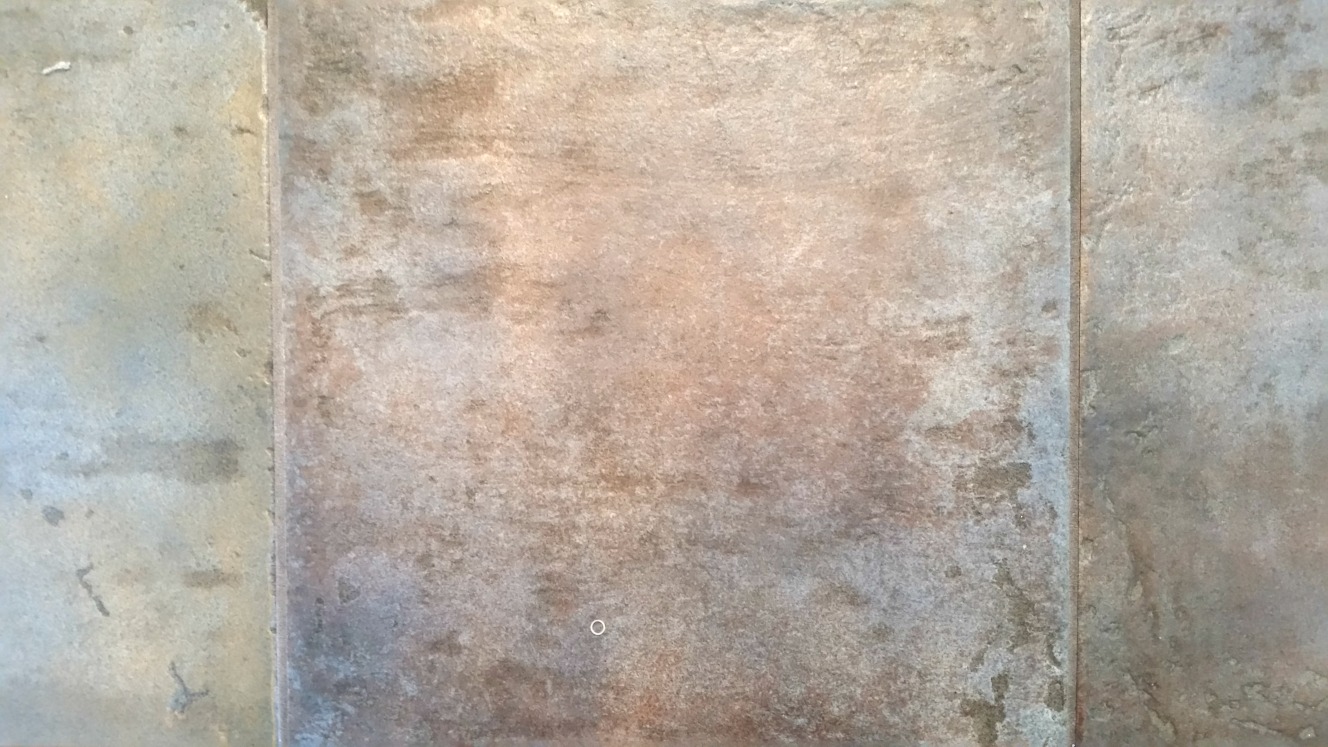 To compliment the wall colour, add dimension and ground the room, I chose a low maintenance slate inspired earthy ceramic tile for the floor.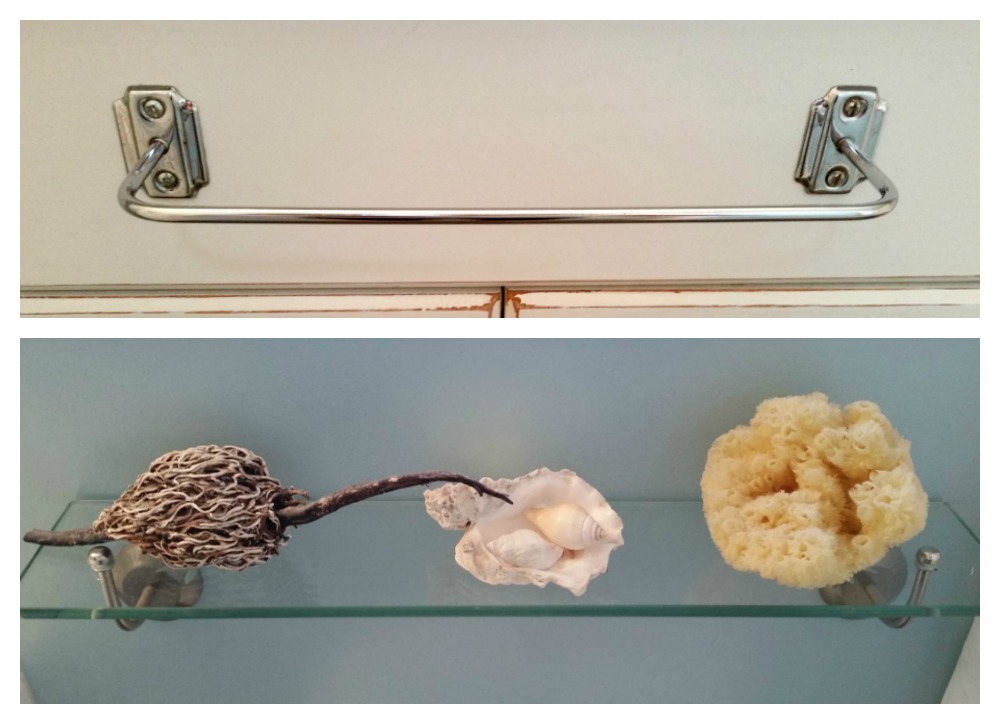 I found a vintage towel bar from the local Restore and affixed it to the false drawer front on the vanity. Perfect spot for hanging a hand towel. Some decor items I used to enhance the overall theme of the room were shells, sea sponges and objects found on the beach. 
Other decor items in the room are a coke bottle growing barnacle, which again was found on the beach and an old enamelware bowl that is filled with shells, facecloths and lotions. I chose a white shower curtain embossed with tree branches (as it read on the label), but I think the embossing looks like coral, so in my mind was the perfect compliment to the room and adds a fabulous textural detail.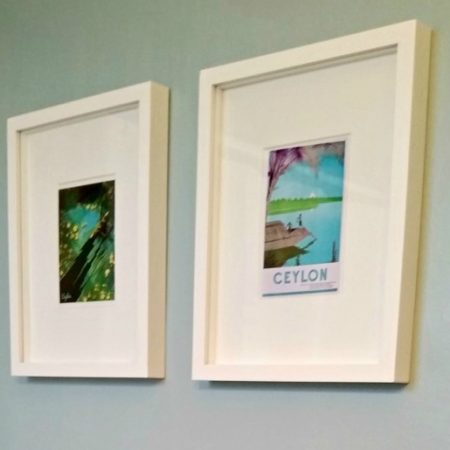 I framed a couple of pics that we brought home from Sri Lanka in all white frames making the water themed prints really pop. The other print in the room is "figure at a window" by Salvador Dali. Again, sticking with the water theme, in this print Dali captures his sister taking in the ocean view from his studio in Cadaques, Spain. Absolutely love Cadaques and having prints in the room that not only look great, but remind you of places you have travelled, well that's a sure bet to make anyone smile.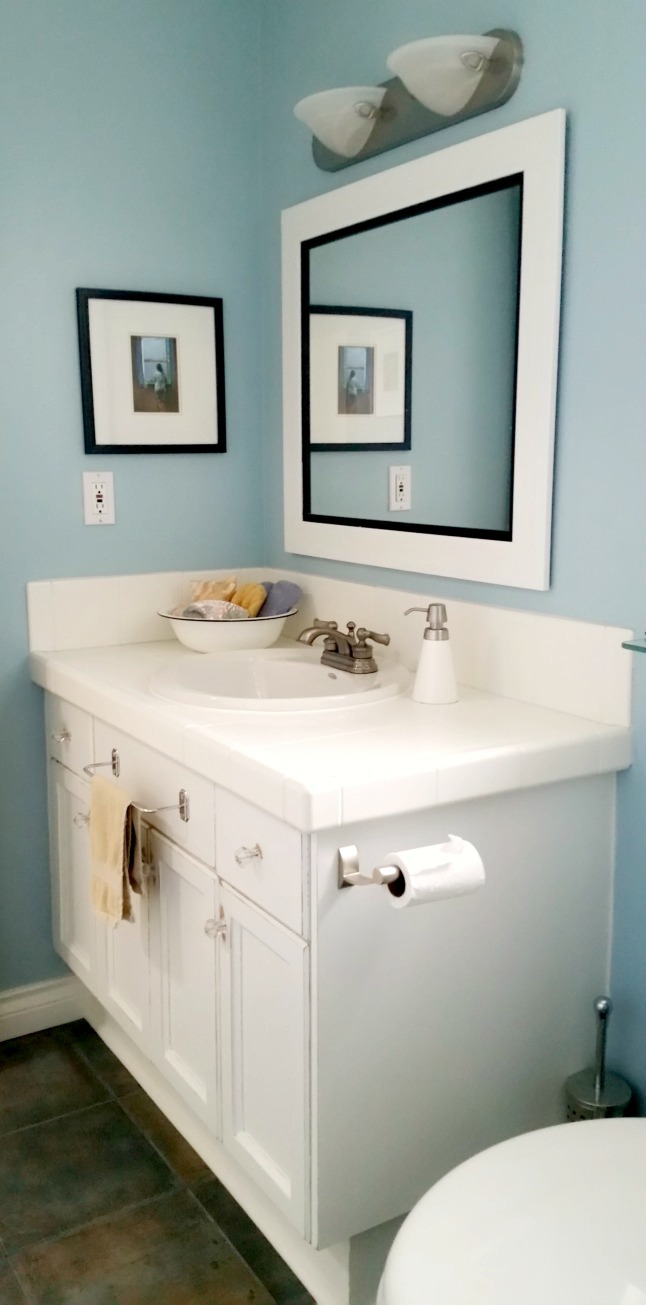 Even today, 10 years after the remodel, I am asked what colour I painted the bathroom.
An absolute crowd pleaser!
If your looking for a fabulous blue that will stand the test of time then Summer Shower is a sure thing.