A trend I love, is taking old pieces of furniture and making them new again. Recently, I found two French cane barrel chairs at a local Salvation Army store for $25.00 each. They were not an exact match, but the style was pretty much the same so I quickly nabbed these girls and brought them home for restoration.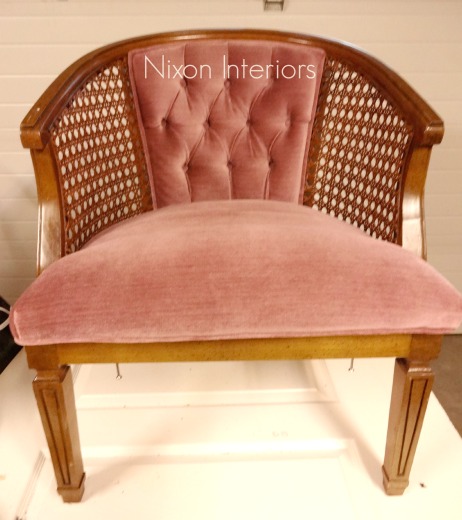 I did this project on my own, but it is definitely not for the faint at heart. It is a little more involved, as you will have to do some upholstery work. Here is a step by step guide to creating a modern version of the classic French cane barrel chair.
First, I unscrewed the cushion back and seat from the chair frame. As you disassemble the chair pay close attention so you can reassemble it easily. Also, keep all the material you remove as you can use them as templates when cutting out your new pieces of material.
I then painted the chair with Benjamin Moore furniture paint. This paint is an oil and water mix which makes it soap and water clean up. For my chairs, I used a color called etiquette in a pearl finish.
Now comes the upholstery work. I reused the foam on the seat and the framework as it was all in excellent shape. Using my staple gun, I attached new fabric to the seat. I then stripped the old fabric off the piping and sewed on my new fabric. I try to create as little waste as possible so I choose to reuse when I can, but new piping is readily available at any fabric store. This is your call! I then stapled the piping to the bottom frame of the seat.
Now it is time for the cushion back. I did not want the button back so I had to purchase new foam. I brought the old piece into the store to use as a template for size, shape and thickness.
From here I stapled the new material onto the back of the chair so the good side will be seen from the back.
Then I stapled the original cardboard, the new foam and the material onto the chair frame. Your staples will be exposed at this point, but they will be hidden by piping when you are done.
After the back is in place, I used a hot glue gun to glue on the piping that will cover the staples.
Now the seat can be screwed back on the chair frame. The job is complete. I put these beauties in my living room which is mainly used for visiting and entertaining. Overall, this project was more involved than most, but if you are handy with a staple gun and a sewing machine you should fare quite well.