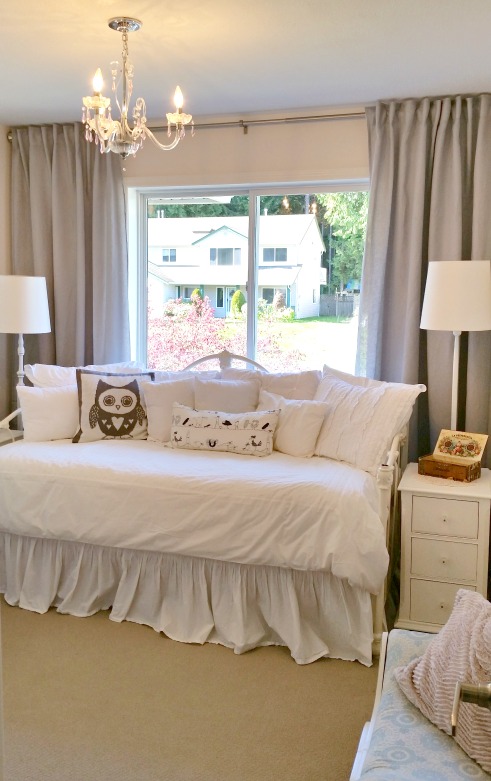 For my little girls 10th birthday I decided a room update would make the perfect gift. It could not have worked out better, as the night I finished she was at a sleepover so when she returned home, I was able to do the BIG REVEAL!  I will never forget coming around the corner and seeing her face as she sat on her bed taking in her new space. "I Love It!" she exclaimed. That was all I needed to hear.
Many years ago I did my daughters room in a two tone pink stripe with a wave of green that made its way around the perimeter. Perfect for a wee li'l girl, but now my way too mature 10 year old wanted something a little more grown up. So the walls were sanded and the stripes were covered in Benjamin Moore's Pink Damask. A soft blush that pairs perfectly with greys, tans, quiet blues and soft greens.
I chose ceiling to floor cotton drapes with a Linen look to create a statement on the feature wall behind the daybed. I also took the drapes to each corner of the room to help camouflage the offset window and create a more grand appearance.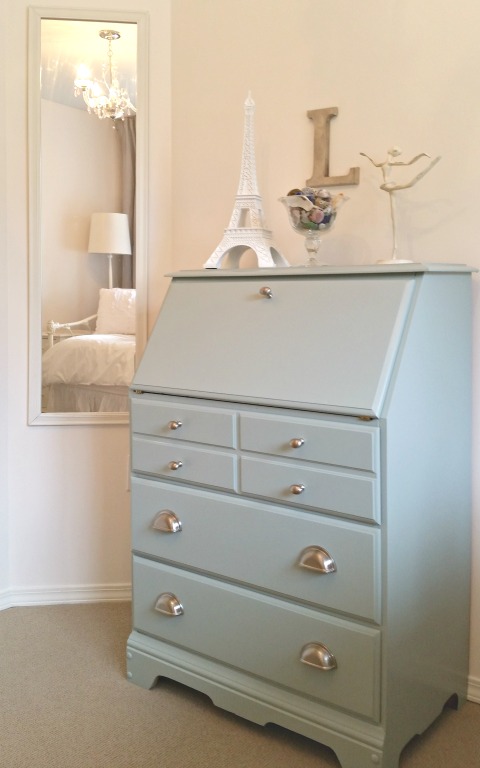 My daughter picked out a few decorative items on her own, such as the Eiffel Tower which has special meaning to her as we were able to visit Paris this time last year. She also decided on a letter "L" wall plaque. The glass vessel that sits on her dresser/desk holds beach glass that she has been collecting from different parts of the world.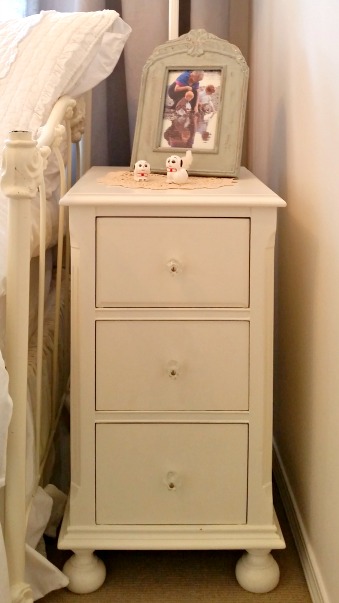 For the room, I wanted tall narrow bedside tables with loads of storage. I was able to achieve this by repurposing an old vanity. By removing the centre piece of the vanity and doing a bit of filling, sanding and painting, two separate tables were created.  These little beauties are perfect for a smallish space and I just love the bun style legs.
I didn't want to take up space on the bedside tables so I opted for two vintage floor lamps that I spray painted white and topped with matching cream coloured shades.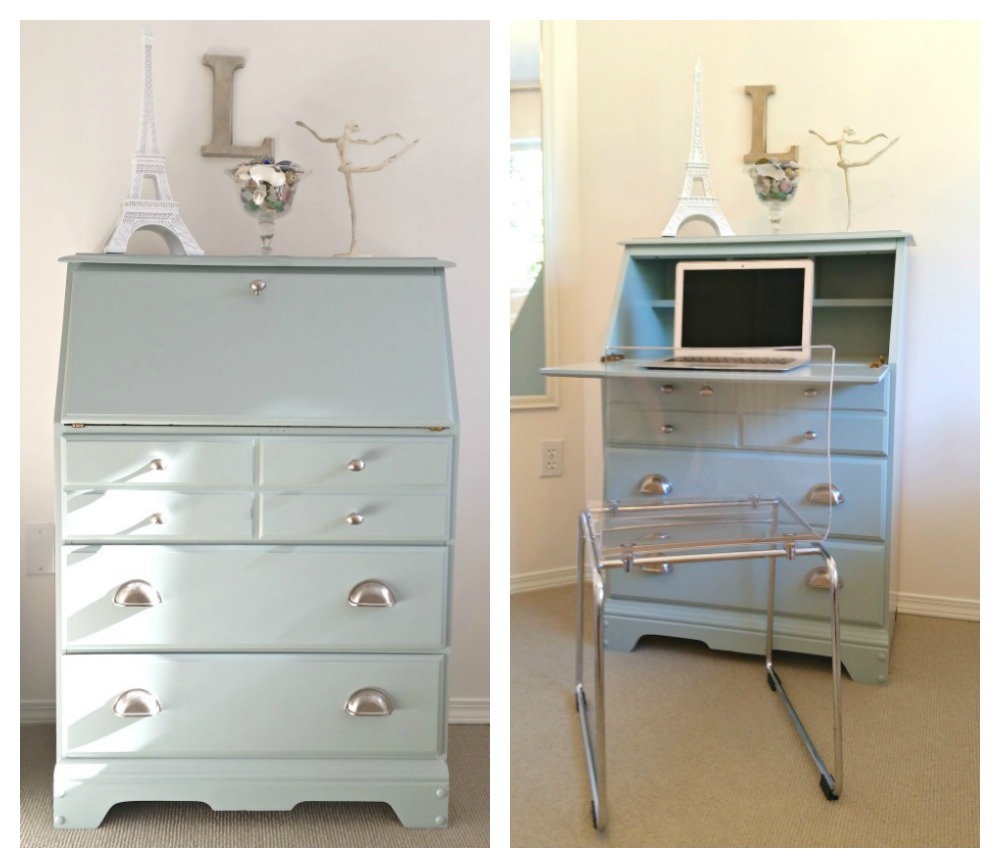 I picked up a solid wood secretary style desk for free and painted it in Benjamin Moore's Raindance. With a new coat of paint and by adding some new hardware the dresser/desk was given a whole new look. A versatile piece that is perfect for smaller spaces.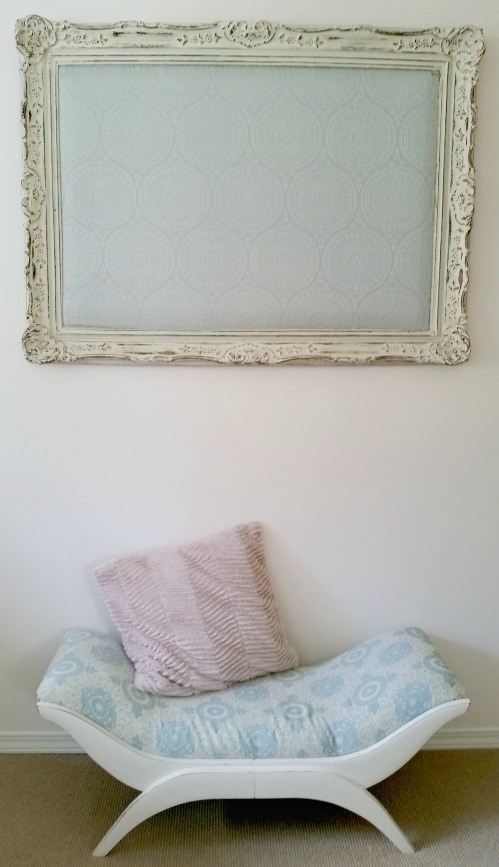 The cork board and cute little bench seat were made to set the style of the room. You can see the blogs I did on these called Parisian Inspired Cork Board and Parisian Inspired Bench.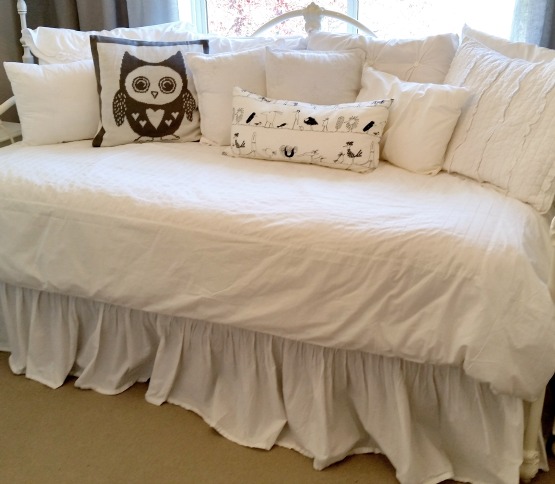 I opted for a bed skirt to hide all the under the bed storage bins filled to the rim with STUFF! The ruffles on the skirt, along with the curvy lines of the daybed all help enhance the Modern French Country or Parisian feel of the room.
All of this adds up to one very happy, growing up way too fast, 10 year old girl.